Do you appreciate the work this ministry does? Do you want to help? Here's your chance! We are offering other ministries a chance to advertise their websites here on the front page of the Adventist Defense League. We constantly promote our website across the internet. Not only that, Our Higher Calling Ministry travels to different parts of the world preaching the gospel while at the same time adertising our websites. The benefits of advertising here are:
• Your website will be in the front page of the Adventist Defense League website, and in the links section of the Our Higher Calling Ministry website.
• Our graphics design specialist (one of our members) will create your website banner if you dont have one. We will do two samples and work with you as we design it.
• We can also create for you a short 1 minute or less FLASH animated promo video to use for advertising if you do not want a banner. Samples of how we make our videos can be found here.
• Traffic to your website will increase! Take a look at our site meter to see the traffic we get here.
• You will help Our Higher Calling Ministry move forward in their mission of spreading the present truth and defending the faith once delievered unto the saints.
our website traffic statistics
between 02-16-09 and 03-02-09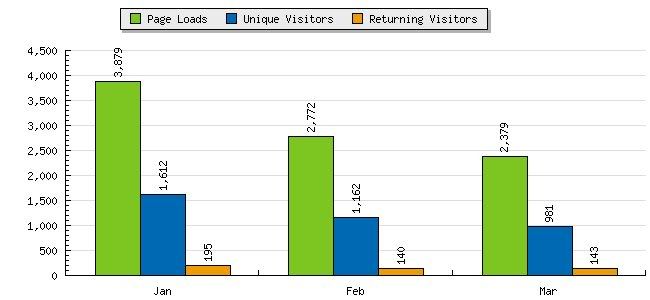 three months: Jan., Feb., Mar.
end Mar. 21, 09 – 5:30 pm est
green

: new visiters per month
If you choose to advertise here, your brand new banner or video screen will appear towards the bottom right of the front page, and will replace the current advertised banner when their agreement is up. Readers will only have to click on your section of the front page and they will be directed straight to your site. If the current advertised banner or video will be up for too long and you would like your website advertised right away, your site will be advertised at the bottom left of the front page, parallel to the other banner.
All persons interested in advertising religious sites must be Seventh Day Adventists. If you are interested in advertising on our website and would like to begin working on a banner or video promo, contact us as soon as possible:
Our e-mail address:
edwin@adventistdefenseleague.com
Your friends,
The Team at the
Adventist Defense League